BIN LIFT TIPPERS
Here at Tipmaster, we build a range of bin lift tipper bodies for chassis up to 11 ton GVW. Our bodywork can be built to your specification & we always welcome ''one off custom builds'' as well as supplying any size of fleet.
We have many Council, waste management & private bin lifter customers around the UK. Our products can be purchased directly through ourselves or we are happy to work with your chosen chassis supplier or leasing company.
We work closely with all the major chassis manufacturers & hold body builder accreditations as well as having full type approval for the chassis we work on enabling the chassis manufacturers' dealers to register with ease, No IVA's required.
We are happy to visit any potential customer to discuss vehicle & bodywork requirements, call or email us 020 8539 0611 sales@tipmaster.co.uk
We also supply vehicles complete with bodywork through our sister company www.perkinscs.com
3.5 ton caged bin lift tipper
3.5 ton caged bin lift tipper, built with a strong welded aluminium floor to reduce body weight, bin lifters are always built into the body and run flush with the sides to eliminate any protrusions.
As standard, we use the Del bin lift with different height options to suit body height, options of a roof are available to suit your requirements. All bin lifters are capable of emptying wheeled bins with up to 360-litre capacity.
3.5 ton high sided bin lift tipper
3.5 ton high sided bin lift tipper, built with our tough but light weigh fully welded aluminium floor, headboard and framework in aluminium with GRP sides & roof options.
7.5 ton caged bin lift tipper
7.5 ton high sided bin lift tipper, custom built
7.5 ton high sided bin lift tipper, custom-built from customer specification with bin lifter emptying into a separate compartment with hopper for food waste.
This particular body was designed for multi recycling uses with compartments for different waste types.
The food waste was emptied into a hopper that could be emptied via a forklift truck with rotating forks.
Lower area for bagged glass, a front compartment for cardboard & a rear compartment for general waste.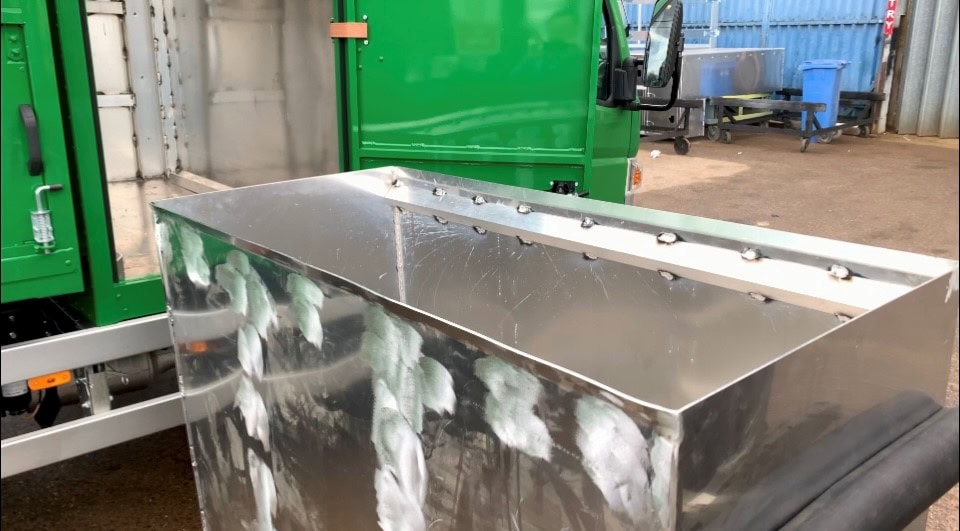 TYPE APPROVAL AND ACCREDITATION
Type Approved Conversions for Ford Bin lift Tippers | Citroen Bin Lift Tippers | Fuso Canter Bin Lift Tippers | Iveco Bin Lift Tippers | Nissan Bin Lift Tippers | Peugeot Bin Lift Tippers | Vauxhall Bin Lift Tippers | Isuzu Bin Lift Tippers | Mercedes Bin Lift Tippers | Daf Bin Lift Tippers